2017 Mission Banquet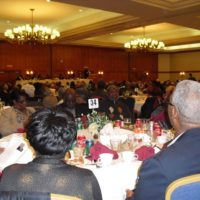 The Philadelphia Baptist Association Annual Mission Banquet will be held on Saturday, October 21 at The Drexelbrook in Drexel Hill, PA.  The event will begin at 11:30 am. The deadline to register is October 2nd.
The speaker this year is The Reverend Dr. Brianna Parker.  She is the founding curator of the Black Millennial Café, established as a resource for black churches and other institutions seeking to engage millennials.  Rev. Brianna currently serves Friendship-West Baptist Church as the Pastor of Assimilation.  Brianna, concurrently, serves as an adjunct professor and Coordinator of College Assembly at Paul Quinn College, where she endeavors to bring Christ to the youth of today to ensure a better tomorrow.  In 2016, she accepted an appointment as a full-time Assistant Professor of Religion at Jarvis Christian College, Hawkins, TX.  Dr. Parker provides support for congregations across the United States that are interested in reaching the millennial generation for Christ. (www.blackmillennialcafe.com)
See the flyer below for complete details.