2017 Mission Banquet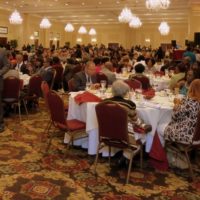 The 31st annual Mission Banquet was held on Saturday, October 21, 2017 at The Drexelbrook, in Drexel Hill, PA. This year we celebrated persons committed to nurturing and discipling the next generation. We said thank you to church members who provide exceptional ministry and service to children, youth and young adults. This year we honored 22 individuals.
The speaker this year is The Reverend Dr. Brianna Parker.  She is the founding curator of the Black Millennial Café, established as a resource for black churches and other institutions seeking to engage millennials.
Rev. Parker chose as her text 2 Kings 5, the story of reluctant king Naaman, who listened to a young girl and was healed of leprosy. She defined Millennials, as young people who are the most educated ("degreed" was her term), but burdened by financial debt from school loans. They are the most imprisoned generation. This means that they need guidance and support away from the negative cultural standards of our day. And they are not afraid to question current spiritual norms in the church. Rev. Parker gave as a guideline (the ABC'S), to begin dialogue with Millennials. Accept and value the energy Millennials bring. Believe Millennials have something new and legitimate to give to the church. And Confess: Be open and honest before them by sharing our stories and journeys as elders in the church.