311th Annual Meeting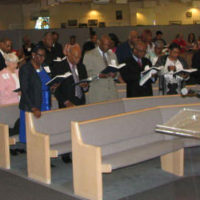 The 311th Annual Meeting of the Philadelphia Baptist Association was held on Saturday, May 5, 2018 at the Bethlehem Baptist Church.  The Rev. Charles W. Quann is Pastor.
We had a time of fellowship, brief business discussion, greeting new members, informative workshops, inspiring worship and a fellowship luncheon.
Our Plenary Speaker, The Rev. Dr. J. Wendell Mapson Jr., Pastor of Monumental Baptist Church in West Philadelphia set the tone for the day as we reflected on the ministry of Christian Music and the Arts in the life of our congregations. The worship service focused on a celebration and praise through music and the arts.
Other highlights of the day included welcoming new pastors as well as a new congregation, Greater Mt. Sinai Baptist Church, into the Region.