310th Annual Gathering May 6, 2017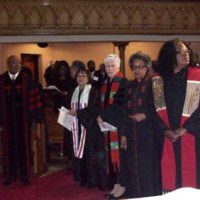 The 310th Annual Meeting of the Philadelphia Baptist Association was held on Saturday, May 6, 2017 at the St. Paul's Baptist Church (100 Wallace St., Philadelphia, PA 19123.) where The Rev. Dr. Leslie Callahan is Pastor.
At this year's meeting the PBA celebrated three hundred and ten years as an Association!  There was a time of fellowship, brief business discussion, greeting new members, informative workshops, inspiring worship and a fellowship luncheon.
As a highlight of the day we joined together for a ceremony of reaffirmation of the Baptist Principle of Association followed by Communion, which was served by members of the PBA Board of Directors.