310th Annual Gathering May 6, 2017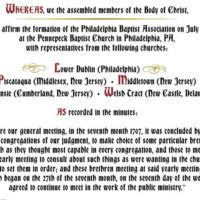 The 310th Annual Meeting of the Philadelphia Baptist Association was held on Saturday, May 6, 2017 at the St. Paul's Baptist Church (100 Wallace St., Philadelphia, PA 19123.) where The Rev. Dr. Leslie Callahan is Pastor.
At this year's meeting the PBA celebrated three hundred and ten years as an Association!  There was a time of fellowship, brief business discussion, greeting new members, informative workshops, inspiring worship and a fellowship luncheon.
Other highlights of the day included welcoming new pastors as well as two new congregations to the Region, Dare to Imagine Church and Second Pilgrim Baptist Church.  During our worship time we were led in praise by the inspirational music from Mr. Perry Brisbon, a nationally and internationally acclaimed operatic tenor.
This year's plenary session and workshops focused on the persistent problem of poverty in our metro-area and the church's response to it.  During the plenary session we will hear from our distinguished panelists: Rev. Dr. W. Wilson Goode, Sr., President & CEO of Amachi, Inc. and former mayor of Philadelphia; State Senator Vincent Hughes; and Ms. Eva Gladstein, Deputy Managing Director of Health and Human Services for the City of Philadelphia.
We heard a thought provoking message from the preacher of the day, Professor of Constructive Theology at Palmer Theological Seminary, the Rev. Dr. Loida Martello-Otero.