A Future with Hope – Resilient Responses in COVID-era Ministry
Grief.  Isolation.  Financial stress.  Racial injustice.  Disparities in education and healthcare.
Life in an era of COVID-19 has taken its toll on bodies, minds, and spirits.  The challenge of effective ministry in these times depends on leaders who are informed about the effects of trauma on themselves, on their congregations, and on their communities.
On May 24th clergy and church ministry leaders came together in person and online for an interactive gathering that addressed these challenges.  Those who attended were encouraged, educated, and offered opportunities to brainstorm innovative, adaptive, and creative responses to heal and restore a future with hope.
"A Future with Hope" was a hybrid event cosponsored by the ABHMS Center for Continuous Learning, the Philadelphia Baptist Association, and ABCUSA.  Clergy and lay persons were encouraged to attend the event in person at the ABHMS Leadership and Mission Building in King of Prussia.  Attendees were also able to host their own gathering and stream the hybrid experience as a group or join

online individually via the Center for Continuous Learning.
The keynote speaker was Dr. Jessica Young Brown, a Judson Press author and licensed clinical psychologist in private practice.  She provides education and consultation to churches and community organizations on mental health, trauma, race and racism, and organizational dynamics.
The following workshops were offered.
Congregations of Hope
The panelists were:  Rev. Dr. Kevin Johnson, pastor of Dare to Imagine Church and Rev. Maria Lewis, Moderator of the Philadelphia Baptist Association, and an associate minster at Enon Tabernacle Baptist Church.  The workshop was moderated by Dr. James McJunkin, Regional Executive Pastor of the PBA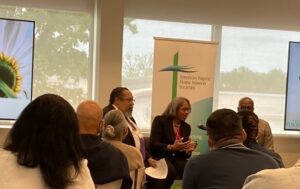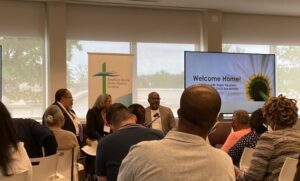 This workshop was an interactive conversation with ministry leaders on welcoming the returning congregation with trauma-informed and responsive re-entry planning.  The discussion focused on the following:
listening for the impact of trauma and what members bring with them as they return
preparing to respond to the physical and emotional safety concerns of the members and the levels of engagement they desire
encouraging resiliency through worship, ministry, and mission
Nurturing Resilience in Children and Youth
The presenters were: Barbara Chavous-Pennock, Tiffany Chavous, Armina Domingue
The leadership team of Somerset Academy, shared insights, and interventions (lessons learned) for restoring well-being with our children and youth.  Safe places are a critical part of counteracting the shockwaves of isolation, low-self-esteem, verbal and physical abuse, and disruption that escalated during COVID-19.  Participants explored questions about the critical concerns of parents and caregivers, the observed impact of the pandemic on children, and creative responses from churches.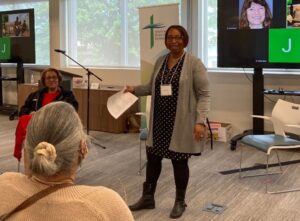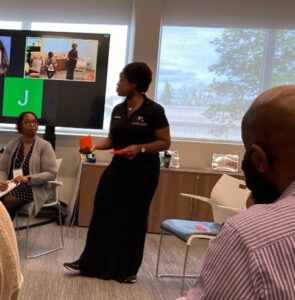 A Conversation Café: Where Does It Hurt?
Hosts: Rev. Rebecca Irwin-Diehl (on-site) and Jennifer L. Sanborn (online)
This workshop engaged ministry leaders about the issues that concern them the most.  In-person table conversations and online breakout rooms addressed diverse topics of concern and invited brainstorming on creative responses.  Topics discussed included (1) the disproportionate impact of COVID-19 on women, (2) communities with continuing health disparities, (3) the impact of community violence and racial injustice, and (4) the far-reaching impact of grief and loss.
The day concluded with a worship service.