Pennepack Baptist Church celebrates its 334th Anniversary
(Written and submitted by: Cheryl A. Carlson: Lay Leader of Pennepack Baptist Church)
"Pennepack Day," the first Sunday in June, is the Annual celebration of our Church's Anniversary.  Our congregation was incorporated 334 years ago.
We had to cancel or postpone so much for the past two years.  Even our Restoration Project.  We couldn't wait to show it off, and we did just that!
Our contractor: Jim Christiansen removed the 5 windows from the front of the church.  He took them to his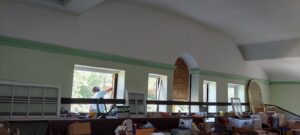 woodworking shop and completely restored them.  He was amazed at the original handiwork from the 1805 construction.  He traveled to Baltimore, Maryland to purchase replacement glass from the Artisan Glass Works Company.
Our day began with an inspirational Communion Service, led by Rev. Gerald Fortunato at 11:00 am.  During our Open House, our visitors could get hot dogs, chips, and baked goods.  Tours were given by Fred Moore, the Treasurer of our Historical Foundation.  He was able to secure the Keystone Historic Preservation Grant to help pay for the restoration project.
The Community History Buffs enjoyed a very Educational Cemetery Tour of the famous people interred in our yard.  They include the Rev. Samuel Jones, D.D., the Pastor at the time of the enlargement of the church building and the Rebuilding in 1805.  Two tours were taken to the Baptismal Rock down the street in Pennypack Creek.
Our presentation at 2:30 pm was given by Dr. Regina Bannan, entitled "City Church in the Country?  Rev. Samuel Jones and the 1805 Rebuilding of Pennepack Meetinghouse."   In 1988 she wrote an extensive Dissertation for the University of Pennsylvania on the construction of the meetinghouse and the people who were responsible for it.  We also heard directly from Jim about the original window construction and the work that he completed.
Our congregation has not stopped in person worship because of the Pandemic, even when there were only 5-6 people present, we held our Service every Sunday at 11:00, streaming live on Facebook for our members who couldn't come out.  God has been faithful and has kept us under His mighty wings.  We continue to Praise His Name for the ways He chooses to teach us.
Restoration complete.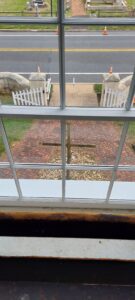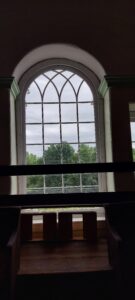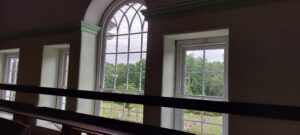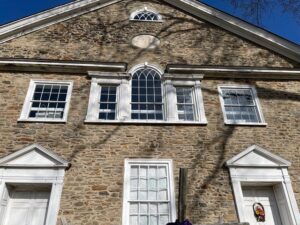 To learn more about the Pennepack Baptist Church, the oldest congregation in the PBA, visit their website at https://www.pennepackbaptist.org