Grace Baptist Church of Blue Bell (formerly Baptist Temple) celebrates its 150th Anniversary
 (Written and submitted by Tamra Phillips, Grace Baptist Church of Blue Bell)
"Rejoice in that day, and leap with joy." Luke 6:23.
What a wonderful day of celebration and praise May 1, 2022 was for Grace Baptist Church of Blue Bell (formerly Baptist Temple). The choir loft was filled, the sanctuary nearly filled, and faces from long ago and far away: Texas, Florida, New Jersey, Georgia, and more came as a homecoming for the 150th– anniversary celebration.
On Saturday, we hosted outdoor festivities to commemorate the church's summer camp – Temple Camp.  Members, former members, and former campers came to celebrate the summer camp in Collegeville that the church owned from 1922-1965. Many spoke of their faith being built at both Baptist Temple and the camp.
On Sunday, during the Sunday school hour, we watched the video (narrated by church members) of the church's past, present and future: https://youtu.be/q1G94nfsb00 before the worship hour.
During the worship hour, we listened to memories from former members.  When Herb Haigh spoke of the shenanigans he and his cousin got into, including swimming in the baptismal pool (located below the pulpit) we laughed, and some of us may have even shed a tear when he choked up speaking from the heart.  Former pastor Dr. Fred Lewis gave a hope-filled and inspirational message.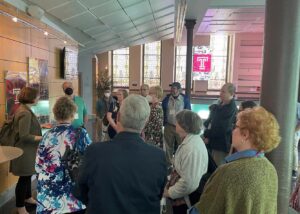 We had lunch on the grounds and then boarded buses for a tour of Temple University's Temple Performing Arts Center, formerly Baptist Temple.  The university that we founded gave us a tour of the building and we remembered our faithful forbears who built this faith community, founded a university, hospitals, an orphanage, and made such an impact on the city of Philadelphia. Michael Young, President and CEO of Temple University Health System wrote in his commemorative letter to the church, "What a difference you have made in the lives of many thousands—if not millions—of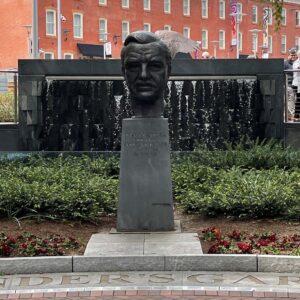 people, and in the soul of Philadelphia."
Temple's Charles Library hosted us for a reception and a tour of their Special Collections which included church artefacts and our fourth pastor, Russell Conwell's memorabilia.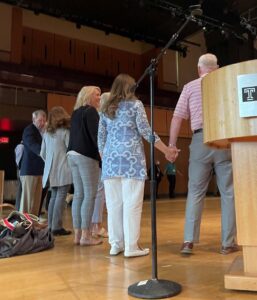 There were too many beautiful moments to recount, but one of the best was forming a circle, holding hands and singing "Blest Be the Ties," in the magnificent landmark building that was once our church home.
"Not to us Lord, not to us, but to your name be the glory, because of your love and faithfulness."–Psalms 115:1