Domestic Violence Awareness Prayer Vigil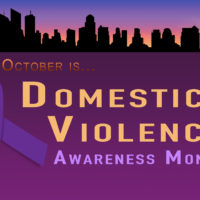 Sponsored by the Learning Community on Domestic Violence of the PBA
Saturday, November 11, 2017 – 9:00 am – 12:00 Noon
Canaan Baptist Church – 5430 Pulaski Street, Philadelphia, PA 19144
Did you know…?
Domestic violence victims lose nearly 8 million days of paid work per year in the US alone—the equivalent of 32,000 full-time jobs.
Based on reports from 10 countries, between 55 percent and 95 percent of women who had been physically abused by their partners had never contacted non-governmental organizations, shelters, or the police for help.
The costs of intimate partner violence in the US alone exceed $5.8 billion per year: $4.1 billion are for direct medical and health care services, while productivity losses account for nearly $1.8 billion.
Men who as children witnessed their parents' domestic violence were twice as likely to abuse their own wives than sons of nonviolent parents.
Source: US Department of Health and Human Services, Administration for Children and Families, www.acf.hhs.gov
 In just one day in 2015
Over 31,500 adults and children fleeing domestic violence found refuge in a domestic violence emergency shelter or transitional housing program. That same day, domestic violence programs were unable to meet over 12,197 requests for services because of a lack of funding, staffing, or other resources. Source: National Network to End Domestic Violence. (2016). Domestic Violence Counts 2015-A 24-hour census of domestic violence shelters and services. Washington, DC.
How is the Church of Jesus Christ respond? Please attend or send a representative to the Prayer Vigil to be held Saturday, November 11, 2017 at CANNAN BAPTIST CHURCH, 5430 Pulaski Street, 9:00AM—12:00NOON.
There will be prayer and vital information to enable you to respond to this worldwide epidemic.