Second Annual Mission Conversation Cafe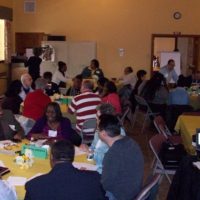 The Second Annual PBA Passion for Mission Café Experience was held on Saturday, March 25, 2017 at the Lower Merion Baptist Church, in Bryn Mawr, Rev. Angel Pagan, pastor.
Sixty-five clergy and lay leaders from fourteen PBA churches were challenged by the presenter of the day, Mrs. Vivian Drayton, past moderator of the PBA and member of the Bethany Baptist Church.  She introduced the topic of the day, "Bringing Good News to people trapped in the cycle of poverty" 
Participants then joined in conversation around the tables to discuss the question of, how does the church provide the appropriate level of care for people in need?
Dividing into small groups, participants were able to discuss the following three questions:
Question One – Do we know the people we are helping in our outreach ministries and do we have relationships and referral procedures that help them to move forward in their lives?
Question Two – How might congregations create supports and supportive networks for people who are abandoned and neglected within the communities?
Question Three – How does the local church encourage its members to advocate for societal change?
Participants were energized and inspired by the discussion time together and, as was stated, "How important it is for PBA churches to come together and share ideas."