Season of Lent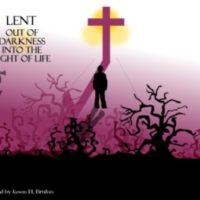 Lent simply is derived from the Germanic root for long because in the spring the days visibly lengthen.
Lent is a forty-day observance during which the Christian can assess the areas of his or her soul that are not Christ-like.  Lent begins this year on Ash Wednesday March 1, 2017 and ends Easter Sunday April 16, 2017.  If you are following the Liturgical Scriptural texts, they are the ones assigned to year A.
Lent originated in the very earliest days of the Church as a preparatory time for Easter, when new converts were instructed in the faith and prepared for baptism and the faithful rededicated themselves.
A  Lenten image can be one of imitating Jesus as he withdrew into the wilderness for forty days.  We give up creature comforts for personal benefit such as receiving and giving forgiveness and healing; to become more attentive to the voice and presence of God.  Through the power of the Holy Spirit, we can to turn away from the thoughts and actions that hinder our relationship with God. Or we can sacrifice time to provide creature comforts for someone else and to be the presence of God in their lives.
It is good to remember, forty days is all it takes to change a mindset and behavior to form a new habit.
Purple is the Liturgical color for Lent.  It signifies royalty and penitence.
I have come to a juncture in my spiritual journey with a longing to know a clearer, deeper definition of what it means to be "created in the image of God," Genesis 1:27. In seminary I was taught that as in image bearer of God, I possessed God's Effable (an archaic adjective meaning capable of being expressed) characteristics. They are the fruits of the Spirit (Galatians 5:22-23). I am also endowed with the ability to choose and to experience and express emotions such as desire, passion, anger and sorrow. The Ineffable (meaning incapable of being expressed) characteristics of God are Omniscience, Omnipresence, Infinitude and Immutability. These I do not possess.
This past January, I found a book written by J. Philip Newell entitled Echo of the Soul: The Sacredness of the Human Body. I believe without a doubt that this book was a gift from the Holy Spirit attending to my longing. The author shares how early Christian traditions understood that to be "created in the image of God" includes "our physical-ness as well as our spiritual-ness."  Each of the seven chapters features a part of the body with its spiritual parallel.  For example, in chapter one, the head is associated with the Mystery of God, part of which means, there is no end to knowing or experiencing God (I was reminded of Ephesians 3:18).  The "mystery of the being human" is that there no end to discovering the heights and depths of our being, our essence. At the end of the chapter, the reader is offered a portion of Scripture or a prayer, on which to meditate for deeper understanding. The meditation at the end of chapter one is "You anoint my head with oil." Psalm 23:5
As Lent begins, I hope you will choose a Lenten practice. My practice will be to reread one chapter from the book, for each week of Lent; and to journal my thoughts around the meditations.  I will pray God's strength to give up, to sacrifice any attachments to thoughts and habits that minimize this wonderful possession of being "created in the image of God."  Then on Easter Sunday I intend to rise from the ignorance of not knowing how "I am fearfully and wonderfully made" (Psalm 139:14) and to embrace fully, the promised resurrection life in Jesus Christ for all eternity because like God, I am and you are eternal.
"The image of God has been woven into the fabric of our being…royal garments woven through with gold."  Echo of the Soul, by J. Philip Newell.
Rev. Julia A. Bruton-Sheppard,
Program Facilitator for Communications and Leader Development