The Protest Movement in Philadelphia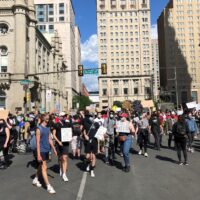 Read the Regional Executive Pastors' letter and bible study on the intersection of the crisis of policing, pandemic, and racial justice. 
We are all overwhelmed by the pandemic and the related justice issues.  This pastoral letter and bible study is intended to help as we live in the intersection of the crisis of police brutality, racism, COVID-19, and economic collapse in 2020.  I hope you will be blessed by spending the time to engage the letter, the biblical reflection, and one another.  Click here and read the letter to PBA Clergy and Congregations.